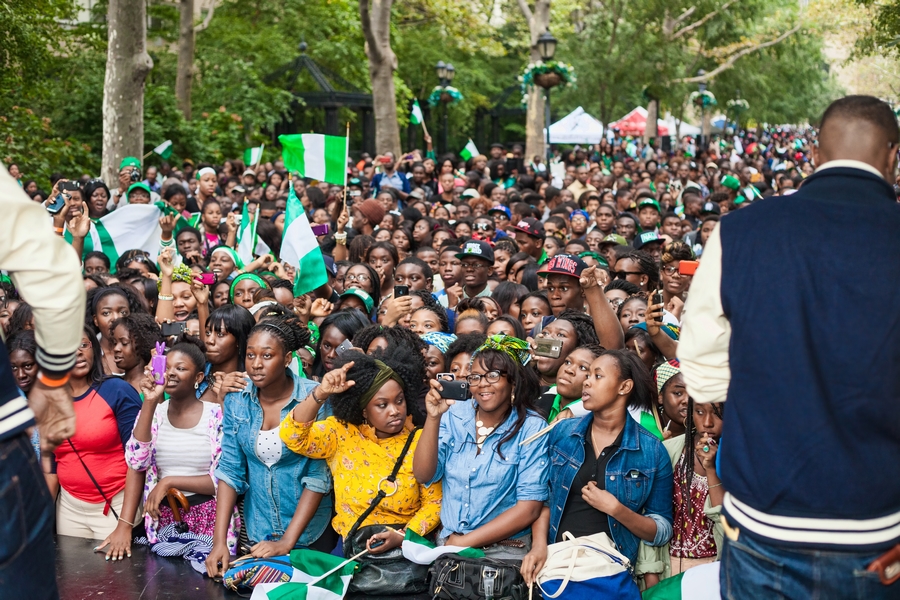 05 Sep

NEW YORK – 2016

 
NIGERIA INDEPENDENCE DAY CELEBRATION IN NEW YORK
Release Nigeria Independence Day Parade Press
For more information, please visit – www.oanweb.org  
Enhance the image of Nigerians in the U.S.A. Inculcate in our youth knowledge of Nigerian history, culture, customs, traditions, values and religion
September 3, 2016
N
ew York – Preparations are in top gear for Nigerians and friends of Nigeria from around the world to celebrate the 56th anniversary of Nigeria's Independence in New York City. This is the 26th edition of Nigeria Independence Day Parade & Festival which started in 1991 in the City of New York. It is the "largest celebration of Nigeria outside of the homeland".BL6A8395-2
The three-day celebration will start with Welcome Mixer for Nigerian youth and their friends on Thursday, September 29th. Music shall be powered by DJ Fresh, DJ Nutty, and DJ YB. Visit www.oanweb.org for venue information. On Friday, September 30th, Culture Night, where our Nigerian youth will demonstrate appreciation of their cultural heritage, and select 2016 Mr. & Ms. Nigeria Independence Day Parade NYC, will take place at Jamaica Performing Art Center, 153-10 Jamaica Avenue, Queens, NY.
The grand finale – Nigeria Independence Day Parade & Festival – is on Saturday, October 1st in Manhattan. A parade procession along Second Avenue from 54th Street to Nigeria House on 44th Street in the heart of Manhattan will start at 11:00 AM. Immediately after the parade is Independence Day Festival at Dag Hammarskjold Plaza near United Nations Headquarters.
Ayo Jay, a popular Nigerian-American artiste, will entertain the jubilant Nigerians and friends at the Festival. Cultural groups and other entertainers will perform at the Festival. Vendors offering various African cuisine, artifacts, T-Shirts, and other items will be on site.
The annual Nigeria Independence Day Celebration in New York, which started modestly in 1991 and has since grown to attract people from around the world, is organized by Nigeria Independence Day Committee (NIDC) – which is a coalition of Nigerian cultural, religious, professional, business, civic groups and individuals.
For more information, please visit – www.oanweb.org
Contact: Culture Night: Quene – 347 892 0801. Lolade – 347 615 9143
General Information: Yemi – 347 232 3931. Obinna – 718 662 1967. Solomon – 917 627 8369. Mrs. Adewunmi – 646 733 8201